If you are dealing lately with old permalinks and are in need to replace them with more accurate ones, it is a high time to start thinking about redirecting. Maintenance of the website includes different types of redirects, but the one you will need most is 301.
WordPress users are not all web developers capable of redirecting old or broken links manually by modifying the .htaccess file. In that case, using an up-to-date user-friendly plugin seems like a much better option. 301 Redirects – Easy Redirect Manager covers a larger space than the automatic redirect of WordPress integrated feature which is activated when a page or post URL has been changed for whatever reason. Site transfer (change of the website domain name) requires the use of 301 redirects. It is the only secure way to change the location of any web content without risk of losing three crucial factors – search engine rank, organic traffic, and backlinks.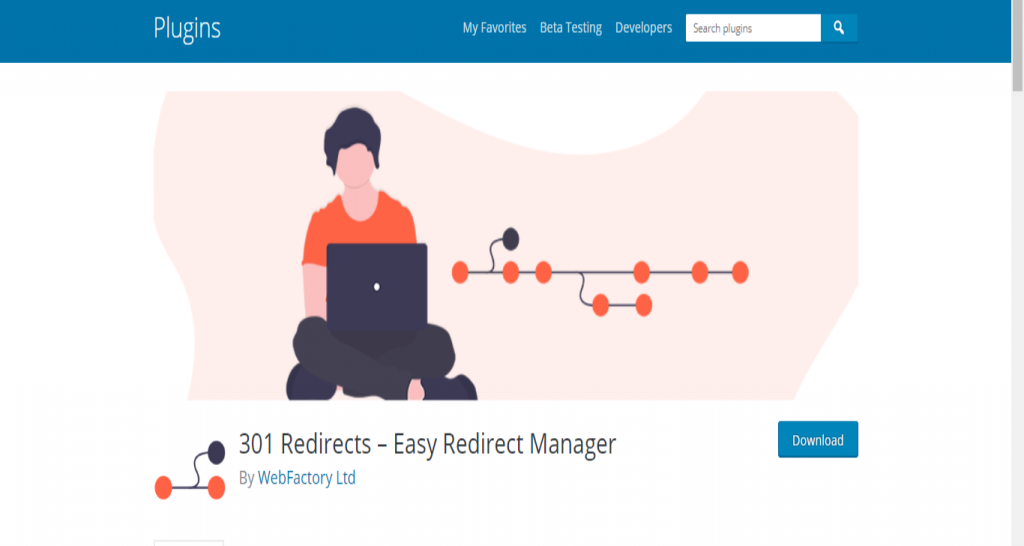 When You Can Use 301 Redirects
301 Redirects – Easy Redirect Manager is number one plugin for WordPress. It offers you the opportunity to choose between redirecting the whole site or individual posts and pages. The last one is important since it is a common issue.
Posts are getting old over time, they need an update, or to be replaced with the newer content. It can also happen that you need to collect old posts with a similar topic and incorporate them into a new post. In this way, you preserve the best parts of the content and remain close to your readers or website's visitors.
If you are about to redesign the website, there is no need to shut it down or keep under construction. Redesign lasts, and for you, time will be wasted if you risk to lose traffic and force your loyal followers searching for similar content elsewhere. In the end, the redesign would have a negative consequence instead of improving the website. Before you realize, you will be at the beginning starting to build your audience almost from ground zero. This is a mistake you can not allow, and there is no need to risk anything when it comes to the stability of your business. 301 Redirects is a reliable plugin that will set redirects and hide the rebuilding process.
How to Use 301 Redirects
You can use the plugin the way you want. It was built with the idea to be as user-friendly as possible. No coding skills or special knowledge about redirects, but you can get introduced to its features to be able to take the maximum of it. First, you have to upload the eps-301-redirects to the WordPress content plugins repository, and second, activate it through the Plugins menu. You are all set to add redirects in the Settings → 301 Redirect menu item. The rest of the job can be done in minutes with the help of the drop-down menu. Set up the requested URL, and choose the destination URL from the menu.
Here can you paste the destination URL for the chosen redirect, or select from the menu some specified content, such as page, post, media file or archive. All the redirects will be listed. You can export the list for future use, or you can track the number of redirected visitors per each redirect. Import and export feature is an excellent option if you are familiar with the CSV file. This simple procedure enables you to maintain the website effortlessly whenever needed, and the truth is that 301 redirects are needed often.
Since they mean a permanent change of location, every time some permalink brakes you will need redirect to preserve your current rank or to improve it by drawing traffic from the old URL to the new one.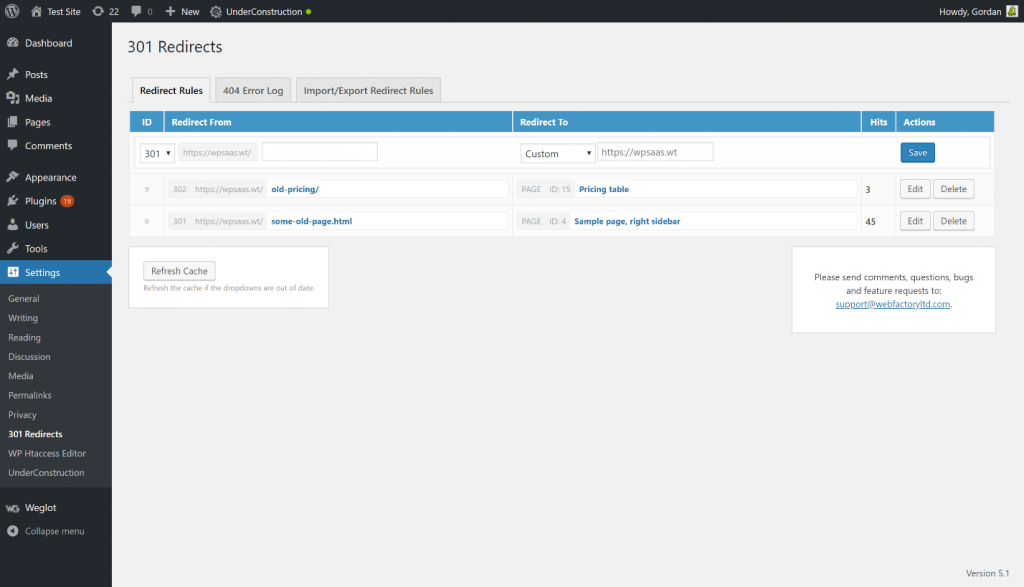 301 Redirects, in Short
301 Redirects is open-source software and therefore is it available to a wide range of users. The list of its features has not been exhausted since it is regularly updated with upcoming features announced. One of them is related to 404 error log (if you are looking for a way to gather all 404 logs within a single platform then why not check out this log management system?).
Although the plugin is already rated 5 stars, this feature would add the sixth. With this plugin, you can easily set and configure 301 as well as 302 redirects with the main goal to improve users' experience and SEO. Both are utmost important for the success of the website.
The interface is user-friendly, convenient for new websites or the existing ones which have gone changes in structure. Repairing links is inevitable after changing the content, especially if the content is about to expire. Visitors will be sent to a 404 error page which is better to avoid. All kinds of content can be redirected with 301 Redirects, including custom post types, archives, pages, and posts, but custom destination URL is also available. Query strings will remain across redirects. The installation is fast, but the plugin is super-fast when it comes to redirection.
Sooner or later, every website owner needs redirects. In spite, the quality maintenance and careful customization of the websites, the links break or you might need to change the structure for some other reason. Redesign or overhaul are only a few of them. If you do not want to get back to the beginning, keep in mind to re-route traffic, and do not make a science of it. All Requested URLs can be easily transferred to different Destination URL in short.
This is the main feature of search engine friendly 301 Redirects plugin. If you think that your website would need a new design, have no worries about what will happen with the users. They will be redirected to a new location of the content flawlessly. You are offered to enjoy some extra comfort knowing that the content is safe, and more importantly, available to every user who would request it. Some visitors will not even notice that the URL has changed and that they are driven to a new location. The whole process happens in the backstage between the search engine and the website.