The E-commerce market is deepening its roots as worldwide merchants and retailers are striving to leverage the potential of the internet.
Enumerated in this article is the full guide of the 4 most adapted e-commerce development platforms that are driving the market in 2021. These platforms empower the majority of all top-notch 100,000 e-commerce websites across the globe. 
4 Most Adapted E-commerce Development Platforms
WooCommerce
WooCommerce is a free plugin that integrates well with WordPress. It is the most popular development platform with quite a handsome market share. It offers a great range of themes and products. It is free but it requires a bit more technical knowledge to set up.
Shopify
It is a Canadian subscription-based solution to e-commerce. It is most easy to install and set up an e-commerce platform. It provides an all-in-one solution to beginners who don't want to hire professionals to set up their business. 
Magento
One of the most powerful platforms. It allows you to control almost everything in the store.
It offers two options: 
Magento open source: free and flexible for small businesses

Magento Commerce: priced cloud-hosted solution
Both these options offer enterprise-level solutions. They require technical knowledge for the setup.
PrestaShop 
PrestaShop is a popular platform with more than one million users. Its basic version is free but the setup is done by yourself. It does not offer web hosting or a payment solution rather tons of paid courses are available to help you with the setup. Recently, they have launched 'PrestaShop Ready' for beginners which can be reached with a monthly subscription.
Addify is your one-stop solution to all your e-commerce needs. It is a fully independent platform with a sound team to provide extensions for Magento, WooCommerce, and PrestaShop. You can trust Addify for their devoted work in building custom e-commerce websites that empowers merchants for growth.
Comparison of WooCommerce, Shopify, Magento, and PrestaShop
A comparison is made among these top four development platforms in terms of:
Launch

Benefits

Market share

Pricing and Cost

Users 

Ease of use

Safety and security

Help and support

SEO friendliness

Sites developed
Launch
The launch year of these four e-commerce platforms is as follows: 
WooCommerce: 2011
Shopify: 2004
Magento: 2008
PrestaShop: 2005
Benefits 
The most prominent benefits that can be cherished by these four platforms are listed below.
| | | | |
| --- | --- | --- | --- |
| WooCommerce | Shopify | Magento | PrestaShop |
| Huge open-source community | Mobile app compatibility | Documentation support | Completely free |
| Integration with WordPress | No fee on transactions | Free domain available | Multi-language support |
| Sell any kind of products | Beautiful design | Hosting freedom | Easy to understand |
| Flexibility  | Mobile ready | Multiple websites | Open-source |
| Themes and plugins | Ease of use | Site speed | Does not require an additional license |
Market Share
As we see the statistics from 2020, we observe that WordPress has the top standing among other development platforms available. It is leading the game in the e-commerce platform in terms of market share. After WordPress, the second one in line is Shopify. It is a Canadian subscription-based solution to e-commerce. The third in competition is Magento which is one of the most powerful platforms. Lastly, PrestaShop covers a little market share among others.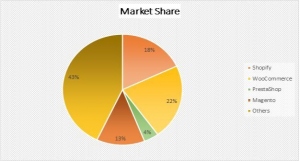 Extracted from: Value Coders
Pricing and Cost
| | | | | |
| --- | --- | --- | --- | --- |
| Categories | WooCommerce | Shopify | Magento | PrestaShop |
| Cost | Free | Paid | Free | Free |
| Products | Unlimited | Unlimited | Unlimited | Unlimited |
| Hosting | Not included | Included  | Not included | Included |
Users
WooCommerce: 2000,000+ users
Shopify: 820,000+ users
Magento: 5,00,000+ users
PrestaShop: 700,000+ users
Ease of Use
WooCommerce is great when you are using its free version. In the majority of the cases, owners of e-commerce businesses require customizations after which it becomes a bit difficult and tricky to use. 
Shopify is the easiest platform as it requires no prior skills or advanced knowledge of coding. This platform offers hosting softwares. Consumers only need to design, manage, and set up their business as the themes and plugins are already available.
Magento requires advanced knowledge of coding and skills for setup and usage. For beginners, using Magento would be a challenge.
PrestaShop allows merchants of all technical skills to work with. It is easy to set up and use. It just requires a few resources to install and manage prior to using this platform.
Safety and Security
WooCommerce offers a bundle of plugins that protect the merchants' websites from hackers. It keeps you updated all the time for any security threats. 
Shopify is quite safe and secure as well. It regulates all security checks timely. 
With Magento, safety and security are not an issue. Working with efficient developers and a team of hosters will keep your business forever secure.
PrestaShop uses SSL to give a significant boost to its security protocols. It keeps the communications between users and stores safe and secure.
Help and Support
WooCommerce offers a WordPress plugin that helps in the smooth running of a platform. The help can be acquired easily and various codes are present to improve the functionality of your store.
Shopify offers 24/7 customer support. They respond quite early with prompt solutions available for their users.
With Magento, it is quite hard to search for help.
PrestaShop has a separate support team for help in developing your own website or acquiring answers to queries.
SEO Effectiveness
WooCommerce has a plethora of extensions available that helps a great deal in SEO. 
Shopify does not spare much room for personalization for its users and therefore, you can not accommodate SEO practices in your store.
Magento has advanced SEO features with inbuilt analytics. 
PrestaShop has a few SEO-focused modules available but most of them are paid. 
Sites Developed
WooCommerce: 1,413,628 websites
Shopify: 1.58 million websites
Magento: 170,000+ websites
PrestaShop: 300,000+ e-commerce sites
Concluding Remarks
I have tried my best to explain the four widely popular development platforms. I have also highlighted the prominent comparison among WooCommerce, Shopify, Magento, and PrestaShop. You must pick the best to stand out in the market.